Patterns make people smile and if you follow my work you know they make me smile too. More importantly, patterns can play a huge role in your brand recognition. They add a little something extra to the overall brand design and that is why I like to create patterns for my branding clients.
These three reasons will explain why patterns can make an impact in your brand design.
1. People Remember Patterns
Our brains tend to pick up and recognize patterns faster. We rely on repetition as a way of remembering things, so I use this notion when designing brand identities. I create patterns from different elements throughout the overall brand to reinforce the brand's essence and visual appeal. These patterns become memorable and add another layer of visual consistency to your brand.
Here are examples of brand patterns I designed for Brightside Creative Solutions. I focused on using the brand's icon (the "B") and created a series of signature patterns that could be used interchangeably across the brand. Repetition of the brand's "B" icon in the patterns was key to making the brand unforgettable.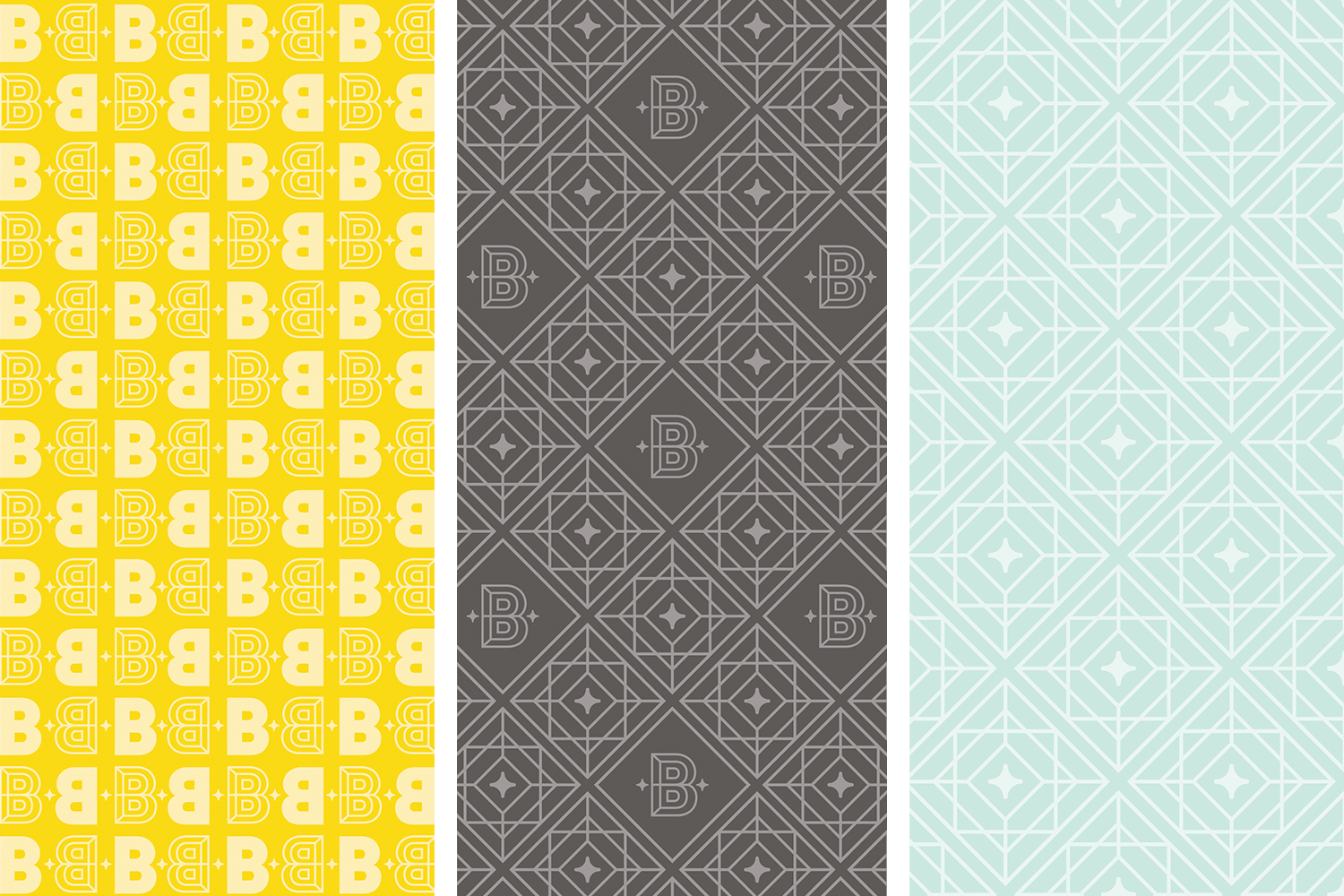 You can see how the patterns were implemented in the collateral. The brand patterns are unique and unforgettable. People will remember getting their business cards and they will begin to associate these bold patterns with Brightside.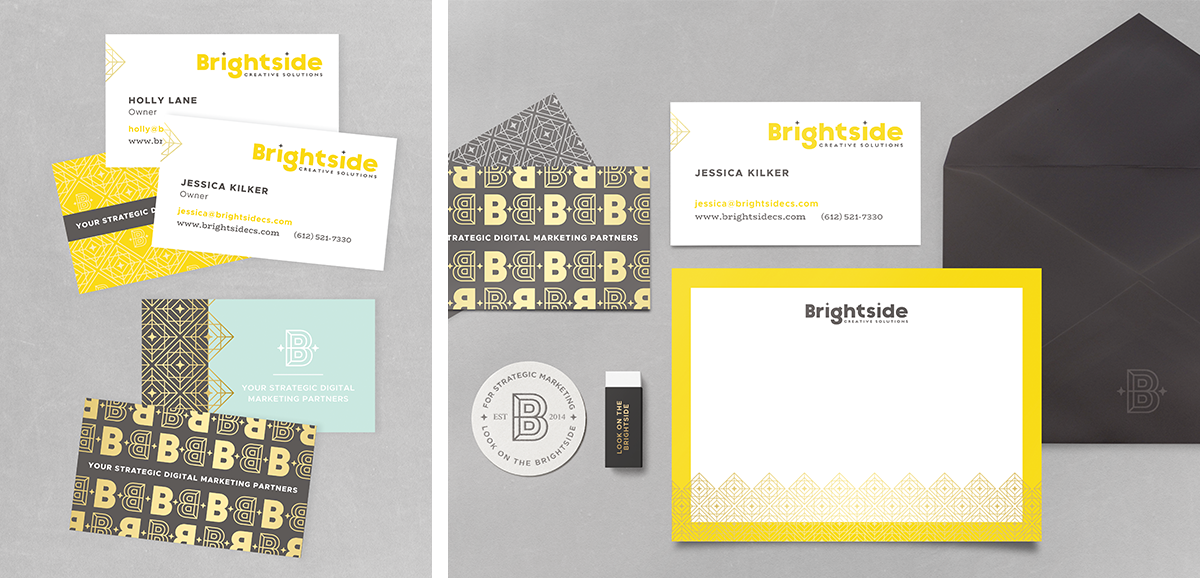 2. Break the Mold
What brand does not want to stand out from their competition? More and more businesses are realizing the importance of branding. They understand they need a strong logo and a brand color scheme, but then they stop there and think their visual brand is complete. But you shouldn't. Developing patterns makes your visual messaging more unique. Your brand will begin to stand out from your competition. The patterns will enhance your brand's personality and your audience will notice. Using patterns is a fun, visual way of engaging your customers.
Most people would think a dentist practice would not need brand patterns, but these patterns for Sweet Tooth Pediatric Dentistry add visual appeal that makes them stand apart from most dentists. I created several simple and sweet confetti inspired patterns that were used on their business cards, website, and more.
3. Catch their Eye
Just adding your logo to your brand collateral or stationery does not count as branding. You want your collateral to be eye-catching. You want your audience to recognize it as your brand and you want them to be engaged. Brand patterns add that eye-catching interest that you are going for. They also allow you to stay consistent with your branding without heavily relying on just your logo. You can use them on your business cards, website, packaging, mailings, in your office, or your storefront – the list could go on and on. In the end, your brand patterns add personal and memorable touches that your audience will be attracted to.
Not all brand patterns have to be intricate and bold. Sometimes the perfect pattern for a brand is subtle and not in your face. Your brand patterns need to reflect your business vision. For example, I created a very simple brand pattern for root + river. The wavy lines make you think of a river, but it also connects with how they help people, businesses and work cultures propel forward as they embrace the authenticity and soul of their brands.
Anyone can harness the benefits of brand patterns. They are beneficial for corporate companies, entrepreneurs, online shop owners, restaurants, clothing brands – basically, they will work for all types of brands.
Don't have brand patterns? Reach out to me and we can strategize how patterns can impact your brand.